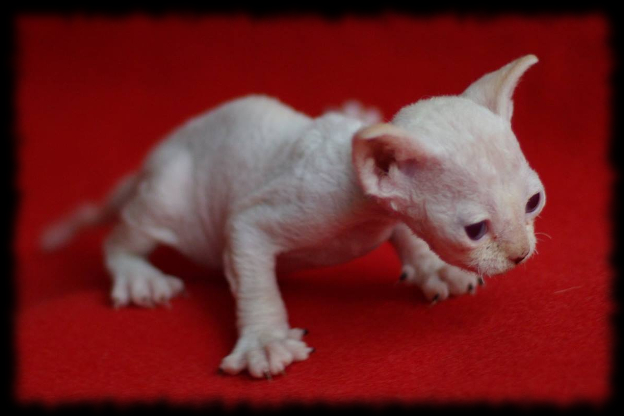 20.3.2015 - Litter H
EC Dona Skarabeusz*PL
Date of birth - 12.3.2007
EMS code - DRX w (d)
Blood type - B
FeLV test - negative 25.3.2008
FIV test - negative 25.3.2008
Pedigree - (PL) FPL LO 9146

IC Kiar Rex DorTina*PL
Date of birth - 26.6.2008
EMS code - DRX d33
Blood type - B
FeLV test - negative 25.1.2010
FIV test - negative 25.1.2010
Pedigree - (PL) FPL LO 16360
PL*ATINIUM Hanneman



Beautiful red point male, he was born as a first cpc boy in our cattery.



Born - 20.3.2015 - 23:00
Birth weight - 78g
EMS code - DRX d33
Blood type - B

!!! Available !!!

If you are interested in any of our cats, please contact us under
info@devonrex.cz and we will answer all your questions with pleasure.
Licensed under a Creative Commons Attribution-Non-Commercial-No Derivative Works 3.0 Unported License.